Before you jump into planning an event, it's important to clarify what the purpose of the event is.
Authored by: iClick2Learn Team
Your organisation wants to hold an event, that's fantastic. But before you jump into planning your event, it's important to clarify what the purpose of the event is.
Are you running an event to raise money for your organisation? Or is your event designed to raise awareness for a specific issue.
Perhaps you are a film society and simply want to screen and share films with the community.
Defining the purpose of your event, will help you:
Research if there is a better way to achieve your purpose

Plan your event around achieving your purpose

Once your event is finished, evaluate if you achieved your purpose.
After defining the purpose of your event, you might even realise there is a more effective way to achieve your purpose.
How do you define what the purpose of your event is? Sit down with your committee and/or members and write down everyone's reason WHY they want to hold this particular event.
Your organisation wants to hold a bake sale, but what is the purpose of the bake sale?
If your purpose is fundraising, you might decide to:
Sell the baked goods at high prices to increase money raised

Ask volunteers to pay for ingredients and volunteer their time cooking

Keep the event/stalls open until every last item has sold
If your purpose is to raise awareness of a particular issue, you might decide to:
Decorate baked goods in a particular theme

Have information/flyers about the issue available

Invite media to attend, to increase awareness
If the purpose of your bake sale is to bring the community together, you might decide to:
1, Keep prices as low as possible to remove any financial barriers
Offer a variety of options for dietary requirements, so everyone feels included

Ask different cultural groups in your community to participate/volunteer
See how defining the purpose of your event is important to how you will run your event.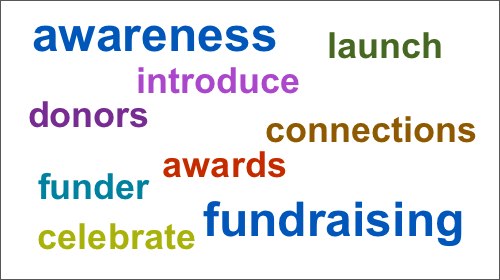 Now that you have defined your purpose, it's a good time to discuss if your event is the best way of achieving that purpose.
Planning and running an event is time consuming, often stressful and carries a certain amount of risk.
You also need to coordinate workers/volunteers, pay for insurance, manage cash flow and have a risk management plan.
So before you dedicate a large amount of time and resources to your event, it's worth investigating if there are more effective ways you can achieve your purpose.
Let's look at the example of the bake sale again.
Holding a bake sale can be a good way of raising funds, especially if people donate baked goods to the sale. But have you considered:
Volunteer burnout – cooking a large amount of baked goods is time consuming.

Out of pocket expenses – volunteers often have to pay for ingredients out of their own pockets.

Food safety –  are your volunteers following food safety procedures when cooking, transporting and selling their baked goods.

Liability – as an organisation, you'll be liable for any risks associated with selling your volunteer's food.
What's another option?
You might want to consider something like a doughnut drive. Where you take pre-orders for speciality doughnuts, baked by an established business. The profit margin will be less, but you may have a larger number of sales.
You would also remove any food handling risks, and lessen the workload expected of volunteers. There will be limited financial costs/risks as this event is operated on a pre-sale basis.
You want to raise awareness around a particular issue. Is a bake sale the most effective way to achieve this purpose?
Members of the community want to support you, so they stop and buy some baked goods, but aren't there long enough for you to engage with.
Or everyone comes at once and you don't have the time to talk with customers, as you are focused on selling the baked goods and supporting other volunteers.
What's another option?
You could host a cooking class, seminar or workshop. Hosting this type of event, gives you a captive audience. You will have the audience's time and attention to discuss the issue you are trying to raise awareness for.
Your organisation wants to bring the community together, and bake sales have had limited success in the past. Also, your members and volunteers are good at baking, so they'd like to keep to what they know best.
As your purpose is to bring the community together, is this the best event idea for your target audience?
What's another option?
Before you start planning your bake sale, you could do a survey in your community, about what events residents would like to participate in.
If your purpose is engagement, rather than fundraising, you could ask everyone to bring a plate to share at a social gathering. Participants would not need to purchase anything, removing financial barriers to people facing hardship.
Congratulations, you successfully planned and ran an event . But did your event achieve its purpose. Reflect on the outcomes of your event in relation to your purpose.
If your purpose was to raise funds, how much money did you raise?
If your purpose was to raise awareness, how many new views does the website have, or have you received new enquiries, or members because of the event.
If your purpose was community engagement, how many people attended and participated in the event. Was there a range of diversity in your attendees? Did attendees ask when the next event will be held?
Events can be a great addition to your organisation's calendar. But events can be time consuming, have insurance and legal obligations, and carry financial and other risks.
It's important to define the purpose of your event, to help plan an effective and enjoyable event for everyone involved – especially your volunteers.
Once you've defined your purpose, you might also identify some alternative ways to achieve it, without holding an event at all.